Happy Perfect Picture Book Friday, dear friends. I'm not sure how the Universe is operating, but it seems to know that we need books that speak to diversity, inclusion, friendship, and love – more than ever before. It's a pure joy and pleasure to turn the spotlight on the newest picture book from one of my dear critique buddies, Tina Cho. And guess what? You have a chance to win a shiny new copy – just leave a comment below and share the post on social media if you can.
MY BREAKFAST WITH JESUS
Written by Tina Cho
Illustrated by Guy Wolek
Published by Harvest House (2020)
Ages: 4-8
Themes: Diversity, Faith, Compassion
Synopsis: From Amazon:
For more than 2,000 years, people have started their day with a delicious meal in their bellies and the love of Jesus in their hearts. From bacon and eggs in the heart of North America to fresh baked bread in Antarctica, believers from each continent gather in the morning to share good food and conversation, giving thanks to God for all the wonderful things He's done.
 
Inspired by the events found in John 21 where Jesus feeds his disciples, My Breakfast with Jesus celebrates breakfast traditions from around the world. Your child will see people from many ethnicities following Jesus's model of service: loving others by meeting their physical and spiritual needs.
 
This lovingly written and beautifully illustrated book will help your child make the connection between faith, food, and fellowship.
Why I love this book:
The text and illustrations take us around the globe to show the reader that we are all part of one world…this is a wonderful book to read with children to show them other cultures.
The theme of compassion and caring for others no matter who they are or what they look like is a theme that resonates with me…and I love that the author and illustrator have a child in each spread who is embracing this theme.
Bold vibrant illustrations will keep young kids engaged…and discovering the different items people eat for breakfast will be educational even for adults.
RELATED ACTIVITIES:
Picture Cut Out Placemats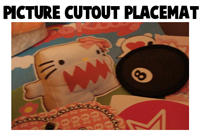 Photo and activity credit: https://www.artistshelpingchildren.org/placematsartscraftideaskids.html
I used to do this with my own kids…they loved it!
"Try these for the next party. The children will have a lot of fun making them. They are so easy to do. All that is needed is a roll of wax paper, some brightly colored pictures cut from magazines, or some greeting cards, and some scissors. For each mat measure off two pieces of wax paper 9 by 12 inches each. Cut all around the edges with pinking shears to give an attractive finish. Then lay one sheet of wax. paper down flat. Arrange the pictures on this sheet, face up, lay the other sheet of wax paper on top, and have an adult go over the entire surface with a hot iron. The sheets will stick together with the pictures in between. If the party is planned around a special theme, choose pictures that will be appropriate to this theme. For a Christmas party, use the gayest of old Christmas cards arranged attractively. For a Valentine party, cut a big red heart from construction paper and place it in the center with four smaller ones near the corners. Or cut beautiful colored flowers from an old seed catalogue or pictures of birds in color."
Another great activity is to invite your kids into the kitchen…what a great learning experience…developing literacy skills, math, science, geography…as you talk about and measure the ingredients for a family breakfast…pancakes or eggs or cereal or whatever is the breakfast of choice. And I can honestly say that when you have a child who is a fussy eater, they often will try things that they have prepared.
I hope you all have a beautiful weekend. Remember that the best way to show an author that you love her book is to buy it, review it, tell other people about it, and ask your library to purchase it for their shelves. And please don't forget to leave a comment to be entered in the giveaway. Maybe you can share what your favorite breakfast is!