Blog Archives
Happy Perfect Picture Book Friday, dear friends!
Today I'm sharing a brand-new book by one of my favorite kidlit authors, Maria Gianferrari. You've met her before when she stopped by last summer to chat on Will Write for Cookies about her then new book, HELLO GOODBYE DOG.  And now she has another one that just launched last week!!! And she is offering a copy as a GIVEAWAY! But before we get to our review and activity (which is going to be so much fun!), I need to make a few announcements.
The winner of a copy of SHARK NATE-O is…
SUSANNA TERPLEY.
Congratulations, Susanna! I'll connect you and author Tara Luebbe.
And the winners of copies of SHOW ME HOW! BUILD YOUR CHILD'S SELF-ESTEEM THROUGH READING, CRAFTING AND COOKING are:
GINGER WEDDLE
VIRGINIA RINKEL
DANIELLE HAMMELEF
Congratulations, ladies…I will connect with all of you to make arrangements to send you the books so that you can present them to your local libraries in honor of National Library Week.
I also wanted to mention that the #50PreciousWordsforKids International Writing Challenge is coming up at the end of this month. It coincides with Children's Book Week, April 30 to May 6. The official challenge post will go live on Monday, April 30th. And author Darlene Jacobsen is going to give the challenge a shout out on her blog on Thursday, April 19…I'll post the link here and on my social media. Please, friends, start getting the word out to teachers and parents of kids in grades K-6. Although every child who participates is a winner, I would love to select one class per grade level and one homeschool family/group to receive a mini-Skype author or illustrator visit like we did last year. I'm hoping to get EIGHT authors or illustrators who would be willing to donate those.  So please contact me if you'd like to participate: viviankirkfield@gmail.
And now for today's Perfect Picture Book!
TERRIFIC TONGUES
Written by Maria Giaferrari
Illustrated by Jia Liu
Published by Boyds Mill Press (2018)
Ages: 4-8
Themes: Nonfiction animal info about tongues, humor
Why I like this book:
Funny! Funny! Funny! Kids will love the humor.
Fabulous word play and nonfiction info about animals and their tongues.
Bold vibrant illustrations – and the expressions on the monkey who travels throughout the book are hilarious!
RELATED ACTIVITIES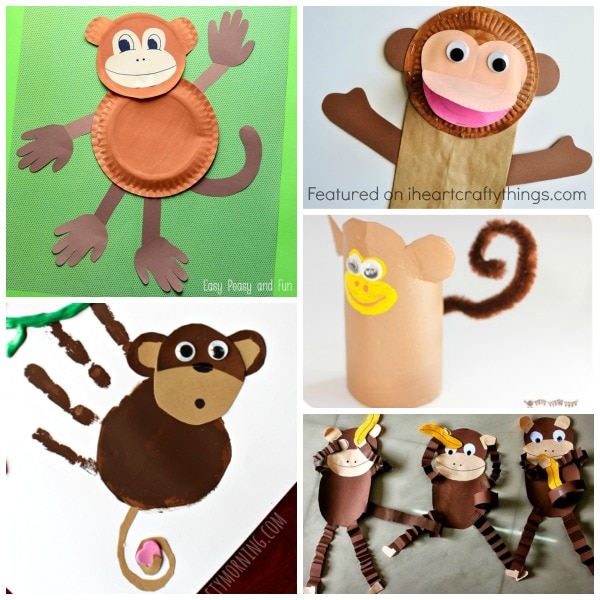 Photo courtesy: https://iheartcraftythings.com/50-zoo-animal-crafts-kids.html
Lots of fun monkey projects! For detailed instructions, please go here: https://iheartcraftythings.com/50-zoo-animal-crafts-kids.html
And to add a funny tongue to any of these monkey crafts, just cut a long strip of construction paper, roll it up, and glue one end to the monkey's mouth.
Enjoy the back matter in Maria's book…so many amazing fun facts about animals and their tongues.
For more picture book reviews and activities for kids, hop over to Susanna Hill's Perfect Picture Book Friday link up.
Please remember that book reviews on Amazon, Goodreads, and other review sites are the best way we can thank authors for their wonderful stories.
And leave a comment to be entered in the giveaway of a copy of TERRIFIC TONGUES.
And don't forget to pass the word around about #50PreciousWordsforKids and email me if you'd like to donate a mini-Skype author visit.
CONGRATULATIONS!
The #50PreciousWords 2018 Writing Challenge was a HUGE success! You all made it so with your fabulous participation: 298 awesome stories and a comment thread that contained almost 1900 positive comments!
The guidelines were simple:
Write a story appropriate for kids ages 12 or under, using only 50 words…they can all be different words, or you can use some of them over and over…just as long as the total word count of the story is 50 or less.
It can be prose, rhyme, free verse, silly or serious…whatever works for you.
Title is not included in the word count.
No illustration notes please.
Please post your story in the comment section below. If you have your own blog and want to post your story there also, please do. And let us know your post link.  I ask for the link so that people will visit each other and find new friends in the kid lit community. Please make sure you put your name in the post. If you have any trouble at all posting the story, please email me and I will be happy to do it for you: viviankirkfield@gmail.com.
Deadline for posting the story in the comments is Tuesday, March 6, at 11:59pm.
Winners will be announced in a special blog post on Sunday, March 11.
Here are the prizes: Read the rest of this entry →
Today is the day, dear friends! Ready! Set! Go! The #50PreciousWords 2018 Writing Challenge is now OPEN!
For those of you who have not participated before, let me give you a bit of back story. March 2nd is the birthday of the incredible Theodore Geisel, better known as Dr. Seuss. For the last two years, I've hosted a little contest based on Bennet Cerf's challenge to Seuss to write a children's book using only 50 words. And the classic Green Eggs and Ham was born. It's true that the story has over 700 words…but only 50 unique words.
In 2016, I thought it would be fun to try to write a story for kids with ONLY 50 words. With a beginning, a middle, and an end. I wondered if I could do it. And then I opened the challenge to everyone. Much to my surprise and amazement, there were 128 entries! And last year, there were 253 entries. And I hope we have a great turnout again this year because I am passionate about helping others follow their dream of writing for children.
In 2012 I had a dream. I wanted to write picture books. And I wanted to be traditionally published. And one of the most important things I did was to participate in writing challenges like Susanna Hill's contests. Why was that important? Because it got me writing. It got me revising. It got me submitting. Hmmm….writing/revising/submitting. I believe that if we do those three things enough times, our writing improves and agents and editors get a chance to see our work. And as much as I am thrilled with my own success, nothing makes me happier than to hear about the success of others in our kidlit community.
So, please sharpen your pencils. Fire up your computers. And share your #50PreciousWords with us. Read the rest of this entry →