Blog Archives
Friday is one of my favorite days and I'm sure you all know why. It's the day I get to review a brand new picture book! Hurray!
And today's selection is from one of my favorite kidlit authors, Maria Gianferrari, who is so generous and kind. She is offering a copy of OPERATION RESCUE DOG as a giveaway. Please make sure you leave a comment for a chance to win!
OPERATION RESCUE DOG
Written by Maria Gianferrari
Illustrated by Luisa Uribe
Published by Little Bee Books (September 2018)
Ages: 4-8
Themes:
Synopsis: From Amazon: 
This sweet story about a girl named Alma and a stray dog named Lulu shows how a girl and a dog can rescue each other.
Lulu's ears flap in the wind
as the rescue truck rolls into the lot.
Lulu's tail thumps—
Everything smells . . . new.
Lulu sleeps under the moon, drinking from mud puddles and is covered in ticks until she is rescued. She waits for the Operation Rescue Dog truck, scared and uncertain.
Alma misses her Mami, who is far away in Iraq. Alma wears Mami's scarf around her like a hug. She wonders: Can a dog feel like a hug?
Why I like this book:
You've got a dog who needs a home and a little girl who needs a friend…that's a formula for a book filled with heart…and I love books filled with heart.
Wonderful illustrations will keep the kids wanting to turn the page to see the next one.
Maria has such a wonderful understanding of dogs…and the relationship they have with people.
RELATED ACTIVITIES:
Photo courtesy: https://www.easypeasyandfun.com/dog-crafts-for-kids/
WOW…what a fabulous collection of dog crafts for young kids. If you'd like detailed instructions, please go here: https://www.easypeasyandfun.com/dog-crafts-for-kids/
I hope you all have a wonderful weekend. Autumn is definitely here…our leaves are already changing color and the temperature in the morning is decidedly crisp. I am fortunate to live in New England because the fall foliage is something many people travel here to see.
School is underway in just about every town and city…but this is a perfect season to do day or short weekend trips with the kiddos. Do you have any travel plans in the near future? My son is flying in from Chicago next week to participate in the Tough Mudder in Gilford, NH. What is a Tough Mudder you ask? Here a short video clip: https://toughmudder.com/events/2018-northeast
It's a 10 mile race with 20 obstacles…like a slog through ice cold water (filled with ice cubes), a run between wires that have electricity going through them…and you…OUCH! As well as climbing up walls, swinging from rings and more! My daughter and I will definitely not be participating…only cheering him and her hubby on. And then the next day, we'll be making a bittersweet drive to Connecticut to hold a tribute to my husband at the river where he fished for decades. 
And my writer friends…how is your writing life going? We are in the last quarter of the year…are you working on anything new? Revising manuscripts? I just finished a new story and just need to polish the author's note (it's another nonfiction pb) befoe I send it to my agent. And then…a new story! YAY! I just came back from visiting a dear friend in New Jersey. We stayed up late…talking for hours and hours. In fact, her husband was sure we would lose our voices. But we didn't! And I came home with TWO fabulous story ideas that I can't wait to start researching and writing.
Please don't forget to leave a comment to be entered into the giveaway for a copy of Maria Gianferrari's brand new book: OPERATION RESCUE DOG…it's available for preorder and launches in just a few days!!!!
Happy Perfect Picture Book Friday, dear friends!
Today I'm sharing a brand-new book by one of my favorite kidlit authors, Maria Gianferrari. You've met her before when she stopped by last summer to chat on Will Write for Cookies about her then new book, HELLO GOODBYE DOG.  And now she has another one that just launched last week!!! And she is offering a copy as a GIVEAWAY! But before we get to our review and activity (which is going to be so much fun!), I need to make a few announcements.
The winner of a copy of SHARK NATE-O is…
SUSANNA TERPLEY.
Congratulations, Susanna! I'll connect you and author Tara Luebbe.
And the winners of copies of SHOW ME HOW! BUILD YOUR CHILD'S SELF-ESTEEM THROUGH READING, CRAFTING AND COOKING are:
GINGER WEDDLE
VIRGINIA RINKEL
DANIELLE HAMMELEF
Congratulations, ladies…I will connect with all of you to make arrangements to send you the books so that you can present them to your local libraries in honor of National Library Week.
I also wanted to mention that the #50PreciousWordsforKids International Writing Challenge is coming up at the end of this month. It coincides with Children's Book Week, April 30 to May 6. The official challenge post will go live on Monday, April 30th. And author Darlene Jacobsen is going to give the challenge a shout out on her blog on Thursday, April 19…I'll post the link here and on my social media. Please, friends, start getting the word out to teachers and parents of kids in grades K-6. Although every child who participates is a winner, I would love to select one class per grade level and one homeschool family/group to receive a mini-Skype author or illustrator visit like we did last year. I'm hoping to get EIGHT authors or illustrators who would be willing to donate those.  So please contact me if you'd like to participate: viviankirkfield@gmail.
And now for today's Perfect Picture Book!
TERRIFIC TONGUES
Written by Maria Giaferrari
Illustrated by Jia Liu
Published by Boyds Mill Press (2018)
Ages: 4-8
Themes: Nonfiction animal info about tongues, humor
Why I like this book:
Funny! Funny! Funny! Kids will love the humor.
Fabulous word play and nonfiction info about animals and their tongues.
Bold vibrant illustrations – and the expressions on the monkey who travels throughout the book are hilarious!
RELATED ACTIVITIES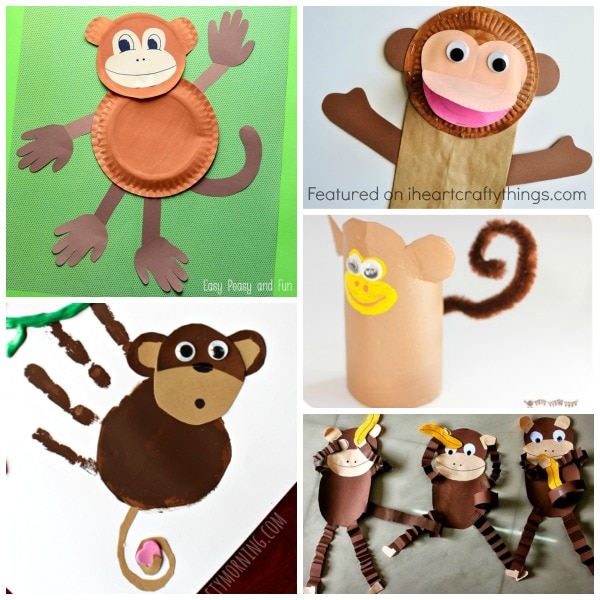 Photo courtesy: https://iheartcraftythings.com/50-zoo-animal-crafts-kids.html
Lots of fun monkey projects! For detailed instructions, please go here: https://iheartcraftythings.com/50-zoo-animal-crafts-kids.html
And to add a funny tongue to any of these monkey crafts, just cut a long strip of construction paper, roll it up, and glue one end to the monkey's mouth.
Enjoy the back matter in Maria's book…so many amazing fun facts about animals and their tongues.
For more picture book reviews and activities for kids, hop over to Susanna Hill's Perfect Picture Book Friday link up.
Please remember that book reviews on Amazon, Goodreads, and other review sites are the best way we can thank authors for their wonderful stories.
And leave a comment to be entered in the giveaway of a copy of TERRIFIC TONGUES.
And don't forget to pass the word around about #50PreciousWordsforKids and email me if you'd like to donate a mini-Skype author visit.